Maplin Cerulian 5 Button Gaming Mouse Review
Update: Maplin no longer stocks this mouse but the wireless version is now called the Maplin Pro BlueTrace 6 Button USB Wireless Mouse. Tek Eye extends this review here to cover it.
There are several reasons to buy a new mouse, here are a few.
Wear and tear, the switches and scroll wheel wear and dust and dirt accumulate inside.
The mouse provided with a new system is not adequate, a mouse needs to be comfortable to use and fit the hand well to reduce fatigue in the hand muscles.
Systems with large monitors or dual screens. Sweeping the pointer from the far left to the far right using only a small movement of the mouse requires a higher dots per inch (DPI) setting than that provided by a standard mouse.
A mouse is needed to use with a laptop when working at a desk.
Standard mice are not adequate for playing the latest computer games.
Tek Eye needed a replacement mouse with the following criteria.
Minimum of a left and right button and scroll wheel.
Adjustable DPI.
Comfortable to hold.
Inexpensive.
Wired (no need to worry about batteries or recharging).
Zero software install.
After some shopping around and trying various models a Maplin Cerulian 5 Button Gaming Mouse was purchased. Maplin is a well establish UK company supplying electronic products, components, computing hardware and gadgets. What do we make of this mouse?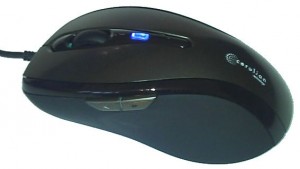 The packaging for this mouse suggests that Cerulian Technology is their own brand manufactured for them in China. The mouse comes in the usual blister package, but unlike many blister packages you do not need scissors to open it. The mouse is shaped with a slight curve to the right for right hand use, sometimes referred to as a comfort or ergonomic design. The shape is like the Logitech M500 and is of a similar large size. It sits comfortably in the hand. Those with small hands may need a smaller mouse than this one. It has dark grey matt sides which help with grip, the overall look is smart and the build quality is good. It plugs into the USB port with no need to load any software.
There are the usual left and right mouse buttons and a scroll wheel. The buttons are responsive with good travel and a reassuring click. The scroll wheel is stepped. The forward and backward buttons on the side, used instead of needing to click the forward and back arrows next to the address bar in a web browser, are adequate. The side buttons could be more responsive but it is preferred to some mice that have side buttons that are too easily activated by mistake, causing unneccessary page changes when browsing.
There is a blue light atop the mouse which is also a switch. Each time it is pressed it changes the DPI and its brightness. This is a great and simple way to change the DPI setting without needing to use any software configuration or fiddly switches on the base.
Bright – 1600 DPI
Dim – 1200 DPI
Off – 800 DPI
The movement sensor on the base also uses a blue light. It is probably the blue sensor and the blue DPI switch that gives the Cerulian Technology name to the mouse. Though it should really be spelt cerulean, did something get mixed up in translation?
This is a good comfortable mouse, easy to install and the simple adjustable DPI is great. The only negative point is that it is very light, some people prefer a mouse with a bit of weight to help with controlling the pointer movement. For those that need a gaming mouse this would be good for the casual gamer, hardcore gamers probably need to spend some more money for a mouse with more weight. For the price, £15, it is hard to beat, and easily deserves a four star rating. This review will be updated after a few months to see how the mouse does over the longer term.
Update: We have used this mouse daily for over a year now an are still happy with it. All the buttons now creak a little when they are pressed but not to the point that it is noticeable or annoying. The lack of a weighted feel is the only real downside. The zero software install and configuration is great when moving it to other PC's. The easy DPI change by just clicking the blue LED on the top is perfect for the rare occasions there is a need to adjust the sensitivity, the only three DPI settings has not caused an issue. Still a great value mouse and high recommended it.
Author:Daniel S. Fowler Published: Updated: Archived:







↓markdown↓ CMS is fast and simple. Build websites quickly and publish easily. For beginner to expert.
---
---
Articles on:
Android, HTML, ↓markdown↓ CMS, VPS, Computing, Computer History
---
---
Android Sample Projects:
Android Examples, Android UI Examples
---