App Monetization List of Marketplaces, Advertisers and Others
If you are interested in writing applications (apps) for mobile devices, then earning cash from them will also interest you. The term app monetization is used. What is monetization? It is about turning apps (and other software, websites and projects) into a revenue stream. The lists in this article can help point the way. The main revenue stream is through running advertisements, but revenue can be earned via commission, sales or selling on what you have developed.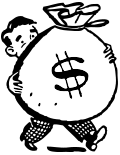 Marketplaces to Sell Apps, In-App Advertisers, Components and App Resellers
Why apps? For many consumers mobile devices, i.e. cell phones and tablet computers, have replaced the desktop as the main computing and browsing device. So much so that mobile devices are the most popular form of computing device. The most popular means the biggest market. It is also a market where consumers do not expect to pay large amounts for products and services. Hence the importance of concentrating app monetization around low cost and high volume. However, remember to keep quality high because user ratings ultimately drive the volume.
The following app monetization lists are far from complete, however, the lists will grow over time. The companies listed should be in alphabetically order, i.e. the position in the list has no meaning. The presence of an organisation in these lists is in no way an endorsement of their services. You must always perform your own checks on any products or services offered by a company. Cross border payments may prove difficult, for example US companies require the completion of a US tax form before payments are made. You may need to use a company that has a local presence to make payments easier.
List of App Stores
Also see the partners page at the One Platform Foundation.
List of In-App Advertisers for App Monetization
App and Code Resale Marketplaces
Looking to quit the app development business? For the right app Tek Eye has funds available for buyouts, contact us at dan@tekeye.uk for more details.
Adverts for Web Site Content
Google Adsense – https://www.google.com/adsense
Information on Ad Sizes
See the Interactive Advertising Bureau (IAB) advertisements size usages guidelines if you need help determining how big the adds in your content should be –
See our article on AdMob Ad Sizes
Others
Get Your App Monetization Offering Listed
Contact us at dan@tekeye.uk if you would like your organisation considered for listing.
See Also
Author:Daniel S. Fowler Published: Updated: