Outlook Alternative With Free Thunderbird and Lightning
With the move to cloud based systems there is less of a reason to pay for expensive desktop software. However, having desktop software to work offline, where there is no Internet connection or when the Internet is down is still a priority for many.
Note: This article is now several years old and has been archived.
Switch to Thunderbird to Help Move Away from Microsoft Office
Microsoft Office has been the main productivity program for many people over the years. But why pay for new versions, upgrades or to move it to a new computer when there are free alternatives.
Microsoft Office Alternatives
The most common reasons to use Microsoft Office are to be able to create, save and open documents in Microsoft Office format. Because that is what everyone else does. For most documents that can be achieved using free open source programs.
With Microsoft Office the most popular programs are Word (to write reports, letters and other documents), Excel (to generate and use spreadsheets) and PowerPoint (to make presentations). These three functions are supported in the free office productivity suites LibreOffice and OpenOffice. Another alternative is the WPS Office (previously Kingsoft) suite which works on several devices. If you just need to create the occasional small document then Windows has WordPad and that can save to the Word Office format (docx).
Alternative to Outlook for Email, Address Book, Calendar and Notes
Unfortunately LibreOffice and OpenOffice do not come with a personal organiser. Switching away from Microsoft Office also means switching away from using the desktop Outlook. Windows has its own email and calender clients. For many people these will be fine. Other users will want a program that has more features and tools. Deciding to replace Microsoft Office means finding an Outlook alternative. A good choice is Thunderbird, which can import emails from Outlook and has calendar and note taking add-ons.
To Begin Outlook Replacement First Install Thunderbird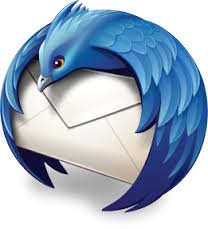 Thunderbird is made by the Mozilla Foundation, Mozilla also do the Firefox web browser. First download and install Thunderbird. If your email is all on a web server then Thunderbird will see it when it is configured.
For help on email account set up see Thunderbird email Account Setup in an online Thunderbird manual. Your email provider can give you the required settings. For some email providers Thunderbird knows the settings and only the password is required.
If some or all the email is stored on your computer (e.g. the email is accessed using POP and pulled off the server), you will probably need to transfer some old emails into Thunderbird, it they are to be kept. One reason Thunderbird is used as an Outlook alternative is that it can import old emails from Outlook. Thus if moving to a new PC then install Thunderbird on the old PC, that has Outlook, to grab old POP emails. This is covered below.
Tidy Up Outlook Prior to Importing to Thunderbird
There is no need to carry across items you no longer need. Open Outlook and go through all the email, folders, calendar, contacts and tasks to remove anything that is no longer required. You can also execute the Compact option on a Outlook Personal Folder to reduce the folders size once unwanted items have been removed (under Advanced in the properties of the top level).
Import Outlook Items into Thunderbird
If setting up Thunderbird on a new computer and you want access to the emails stored in Outlook there are options available. If using Thunderbird on the same computer as Outlook you can import items directly into Thunderbird, see Switching to Thunderbird on the Thunderbird support area. If the email accounts use IMAP to communicate with the server then you do not need to import the email from Outlook. It will be shown in Thunderbird when the email accounts are added.
If Outlook is configured with more than one account, some POP based and some using IMAP. Then if only a few POP based emails need to be transferred they can be dragged over to the IMAP account in Outlook. Outlook will load them onto the IMAP account's server. The emails will then appear in Thunderbird. To check if an account is using IMAP or POP see the account's settings in Outlook or check with the email provider.
Move Outlook Emails Imported to Thunderbird to Another Computer
The imported emails are stored under Local Folders in Thunderbird. This is a folder stored in the Thunderbird Profiles directory. In Windows Profiles is buried in the logged on users hidden AppData directory. Open the logged on users folder (via the desktop or C:\Users). Use the View menu option in file Explorer to show Hidden items. In AppData\Roaming\Thunderbird\Profiles open the Mail directory in the default profile. Close Thunderbird and from Local Folders copy all folders and files starting Outlook Import (unless it was renamed in Thunderbird then use the new name). It will be three or four files:
Outlook Import.sbd (directory and all its contents)
Outlook Import (a file with no extension)
Outlook.Import.msf (a file)
and possibly:
Outlook Import.mozmsgs (directory and all its contents)
Place the copy of these files into the same location on the new PC. Open the Thunderbird in the new location and the mail messages will be in Local Folders.
Import Outlook Address Book
To import the Outlook address book click on Address Book in Thunderbird, choose Tools then Import and select Address Books. Click Next, select Outlook and Next again.
To transfer the Address Book to another Thunderbird on a new computer use the Tools menu. Select the Address Book, select Tools then Export. Select the location for the file and give it a name. Move the LDIF file to the new computer and then use the Tools option in the new Address Book to do an Import.
Add the Lightning Calendar and QuickFox Notepad to Thunderbird
In Thunderbird open the right hand menu and select Add-ons. Select the Lightning add-on. Select Add to Thunderbird to install it. If the Lightning add-on is not shown use the search facility and select Install.
Do the same to add QuickFox to Thunderbird if you need to save notes. Search for QuickFox and install Notepad (QuickFox).
Thunderbird, Lightning and QuickFox Documentation
Enjoy emailing without Outlook, here's some links if looking for help on working with Thunderbird, Lightning and QuickFox.
While Thunderbird is different to Outlook it is very capable as an email client and makes a very good Outlook alternative.
See Also
For a full list of all the articles in Tek Eye see the full site Index.
Author:Daniel S. Fowler Published: Archived: