Thunderbird Change Password for Email Account
Occasionally it is required to change the password used to access email on the email server. If using an email client, for example Outlook or the free Mozilla Thunderbird app, the email password stored for the account will require updating. In Thunderbird the password is not stored under Account Settings but is stored under Security in Options. For Thunderbird change password is achieved by removing the stored password so that a prompt appears to enter the new password. This article explains the problem and how it is fixed. This article is now archived.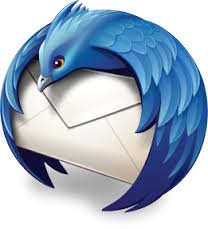 Update or Change Password in Thunderbird to Access an Email Account
When a email account is added to Thunderbird the Mail Account Setup dialog has a box that allows the entry of the password for the account. A check box is used to ensure that the password is remembered (so it is not typed in each time Thunderbird is opened).
The settings for an email account in Thunderbird can be accessed in several ways, see the following list, however these settings do not give access to the password field:
Bring up the context menu (usually right-click in Windows) on the account name, in the folder view, and selecting Settings.
Select View settings for this account when the account is selected in folder view.
Use the menu button next to the search box and select Options and then Account Settings.
If the email account password has changed Thunderbird will not be able to login to receive and send emails. Hopefully the option to renter a new password will be given:

If this does not happen then the saved password for the account must be removed. To do this the Thunderbird change password ability is accessed via Security in the general Options. To bring up the Thunderbird general options click the menu button and select Options and then Options again (note NOT Account Settings):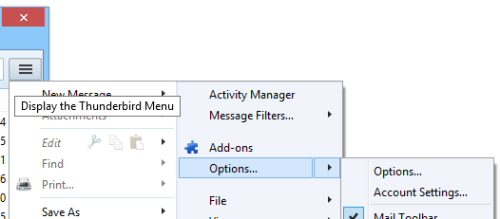 To access the passwords select the Security icon and the Passwords tab and then the Saved Passwords button. Select the email account and select the Remove button, do this for both the incoming (e.g. POP or IMAP) and outgoing (e.g. SMTP) email servers, if the same password is used for both services.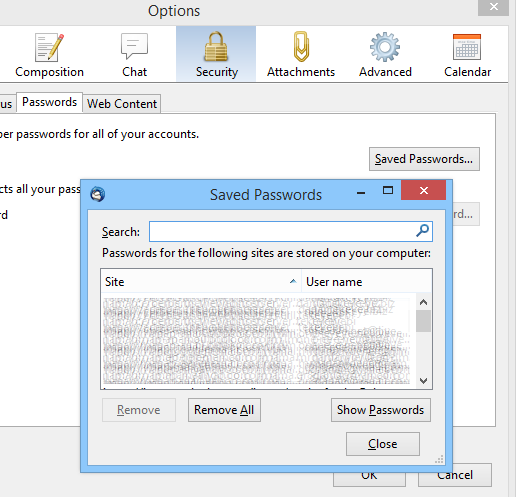 Close all the Thunderbird dialogs and exit Thunderbird. When Thunderbird is run again the prompt to enter the new password for the account will appear. The password can be entered and check the box to remember the password (unless it is required to be entered each time Thunderbird runs).

See Also
For a full list of articles available on Tek Eye see the full site Index.
Author:Daniel S. Fowler Published: Archived: