My Slice of Raspberry Pi is Here
Well, I think the Raspberry Pi SBC (Single Board Computer) is slightly over hyped. After all cheap SBCs are not uncommon and many people use Android phones, and they can be programmed. Still, it is cheap enough to be worth getting one and tinkering with anyway. After pre-ordering, and then ordering, ages ago mine has turned up today. Just need to find some time to do something useful with it.
The Raspberry Pi is a cheap single board computer that is designed to be used for educational purposes. This one came from UK supplier RS Components Limited. A SD card preloaded with an Operating System and a HDMI cable were also ordered at the same time. It uses a smartphone power supply and USB keyboard.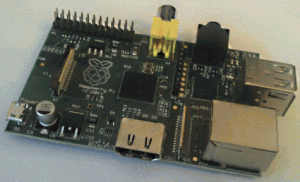 See Also
For a full list of all the articles in Tek Eye see the full site Index.
Author:Daniel S. Fowler Published: