Tek Eye Reaches One Million Ad Impressions
Tek Eye started as a side hobby allowing technical notes and jottings to be kept online for easy access. Those notes expanded into articles and tutorials as the months rolled past. These articles have proven popular, many appearing on page one of results when running searches on the web. I run ads on Tek Eye to cover the hosting costs. Today I got an email from Google AdSense saying they had shown their one-millionth ad on the Tek Eye website. AdSense hands out badges, but they eventually expire. Well, why not keep it here for keepsakes.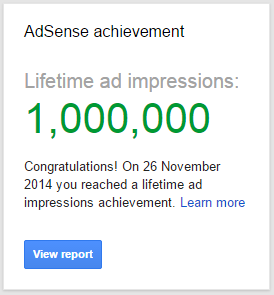 Though one million ad impressions may sound impressive, the value of these ad impressions for Tek Eye is low at only a few pounds.
Another Google Badge
It's been a while since Google sent me a badge. I've now got this one. Tek Eye received 10,000 click-throughs from Google search in 28 days. A very modest achievement for a small website.
See Also
For a full list of all the articles in Tek Eye see the full site Index.
Author:Daniel S. Fowler Published: Updated: