Medion Akoya Review (Medion Akoya P5351 F)
The Medion Akoya P5351 F is one of a trio of desktop Medion Windows 8 PCs that have the Intel i7-4770 CPU, available from the Medion web site (as of October 2013).
Our Review of a New Medion Akoya PC That's Landed in The Office
The three Medion PCs with the i7-4770 CPU are the Medion Akoya P5356 F, Medion Akoya P5351 F and Medion Akoya P5353 F. They are all the same PC and only vary in the amount of memory and the graphics card fitted. The model numbers are a bit strange, P5356F has the highest model number but has the lowest specification. Likewise the P5351F, the Akoya reviewed here, has the lowest model number but is in the middle of the three in terms of specification. Which means the highest specified Akoya, the P5353F has the middle model number! So be careful if buying one and do not go by the model number alone. So what is the difference between the three i7-4770 sporting PCs?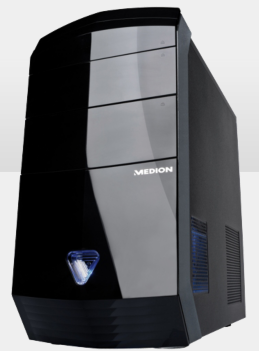 You can chose between a 8GB (Akoya P5356-F) or a 16GB (Akoya P5351-F) machine both with a Nvidia GTX 660 graphics card. Alternatively go for a PC with a Nvidia GTX 680 graphics card (Akoya P5353-F) which has a 128GB SSD instead of a 64GB one. It is the different memory, graphics card and SSD options that result in the price differences. Everything else is the same. All come with a one year warranty.
Who are Medion?
Medion is a Germany company producing electronics products. It is owned by Lenovo the chinese electronics company. Both companies have a reputation for building quality products.
The Medion Akoya P5351 F
The Akoya arrived from Germany in a plain white no frills box. Trapped and suspended between two large foam supports. Much needed with the way today's parcel handlers shift boxes. The PC appears well built and solid. The functional case has a contoured gloss front with three doors. One for the CD, one for a hot-swap drive bay and one to cover the card reader, front 2 USB ports and front microphone and headphone jacks. There is a large triangular power button towards the bottom. The case is a compact 185mm wide, 380mm high and 410mm deep.
It is supplied with a standard mouse and branded Medion keyboard. They are OK for occasional use but heavy users will need to get better quality ones. Especially the mouse, it is a little on the small side so those with large hands would want to upgrade it. Plenty of USB ports at the rear. It is running Windows 8 64-bit.
CPU and Memory
The socket 1150 LGA i7-4770 CPU is one of the fastest consumer CPUs available. And if you a not interested in overclocking then it is ideal, because it can't be overclocked, unlike the slightly more expensive i7-4770K. At the same clock rate they give the same performance. In this Akoya the i7-4770 CPU is running at 3.4GHZ. It is a 4 core CPU with 8 threads. It is supported by 16GB of 1600MHz DDR3 memory. When powered up Task Manager is showing 1.5GB of memory in use, a bit high but that's Windows 8. Some optimization of the start-up programs and services is possible but it doesn't reduce it buy much. Fortunately there is 14.5GB of free memory left.
Storage and DVD Drive
The boot disk, C: drive, is a 64GB SSD, it is a below average performing Micron unit (C400-MTFDDAC064MAM). It is supported by a Seagate Barracuda 2TB 7200 RPM hard disk (ST2000DM001-1CH164). Both are SATA III at 6 Gb/s. The Seagate disk has two partitions, a 60GB recover partition showing as a F: drive, this has 43GB free. The D: drive is empty with 1800GB of formatted space available for data. The DVD drive is a TSSTcorp (Toshiba Samsung) SH-216BB unit.
One of the first thing a user needs to do is move their work folders to the D: drive. The 64GB drive will fill up quickly, Windows 8 already hogs over 30GB. With plenty of space on the D: drive placing all data there will make better use of the storage. It also means that if the system drive breaks down it can be replaced knowing that the data is safe on the D: drive (data should also always be backed up elsewhere in case the D: drive fails, this is where the hot-swap drive bay becomes useful). Any large software programs, especially games, should also be installed to the D: drive. E.g. create a Programs file on D: and point installers to it. It is worth using the space free on the recovery partition when installing utilities.
BIOS
To enter the Akoya BIOS set up screens use the delete key as the system is booting. The Akoya uses an American Megatrends BIOS. It supports a temperature controlled fan so the PC runs nice an quietly in normal operation.
GPU, Sound and Network
The 1.5GB Nvidia GeForce 660 GTX graphics card is a good performer. It has two DVI-I sockets allowing for dual displays. Which means you can plug analog monitors into the card with the appropriate DVI-I to VGA adapter. It also has a HDMI port.
Sound is provided by a standard Realtek High Definition Audio chip, as well as multiple speaker output it supports digital output. The GPU card also supports NVIDIA High Definition Audio for the HDMI playback.
Realtek also provides the standard wired Ethernet network interface.
Bloatware
Unlike some suppliers there isn't a lot of extra software that never gets used and just hogs space and slows down the PC. There is some recovery software, media handling software, a Medion media portal and Kaspersky security suite. The media portal can be removed as it is has a German bias. The security suite is only a ninety day licence, so unless paying to keep on using it remove it and use your preferred anti-virus package. or the Windows Defender package built in to Windows 8 (which becomes active if Kaspersky is uninstalled).
Medion Akoya Review Summary
Thumbs up, overall 3.5 stars out of 5. This Medion is compact, stylish, well built, quiet and good value. With any Medion Akoya review you will never get a perfect score. They are built for reliable operation, hence the use of an Intel i7-4770 CPU that cannot be overclocked, rather than trying to out gun the top performers. The 64GB SSD could be a better performer but is adequate. The D: drive must be put to good use as there is no real space on the C: drive. A novice would need help changing the layout of the folders for best long term storage. There is little bloatware but some trimming of the start-up configuration is possible, though it has little effect on the start-up memory footprint which is high for Windows 8.
Author:Daniel S. Fowler Published: Archived: