Keyless Entry Theft with Range Extender Devices
A keyless entry system for a car is designed as convenience aid, i.e. no need to get the keys out of your pocket or bag. Unfortunately the keyless entry technology can be hacked. The use of wireless car keys, a.k.a. "fobs", has been common for many years. Hacking of fobs has been around for almost as long as the keyless fob technology. Cars are very valuable items and therefore criminals are looking for the easiest way to steal them. This article provides some links to videos about keyless entry theft with range extender devices, and some methods to avoid falling victim to it.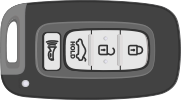 Keyless Entry Hack Devices
There is usually more than one way to hack a keyless entry system, including:

This article is about the relay attack. Showing keyless entry cars stolen using a keyless entry range extender device.
List of Videos on Keyless Entry Range Extender Theft
How to Protect Keyless Entry Cars
Methods for keyless entry car theft prevention are available. Here is a list, with links to vidoes demonstrating the prevention method.
Plus key your keys away from the front of the house (also prevents thieves "fishing" for keys through a letterbox).
See Also
Comments
Miki on 23rd November 2021 at 19:59 said: I saw these on sale the other day - url redacted
Author:Daniel S. Fowler Published: Updated: