List of Freelance Websites for the Gig Economy
This list of freelance websites is far from definitive. Neither is it a list of the best freelance websites as no feedback has been gathered. As with all things online use common sense when looking for work or wanting work done in the gig economy, pay by, and get paid by, results. If it looks too good to be true it probably is, and upfront fees are a no-no. Taking a line from a 1980's cop show: Hey, let's be careful out there.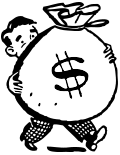 This list of freelance websites is biased towards Information Technology (IT) jobs, as that currently dominates collaborative online working and gigging. With regards to ranking in the table below, it has nothing to do with performance or service. The ranking is currently based upon Alexa global Internet engagement (popularity) ranks, as of the last update date for this article (shown at the end of the article). The more popular sites may present more opportunities, but will also have more competition. If you want to provided feedback on any site, or believe a good freelance or gig economy website should be added to the list then send a mail, dan@tekeye.uk.
Freelance websites and sites that accept jobs of a questionable nature (e.g. create bot for xyz, clone xyz website, ask for upfront "fees") will not be listed (and thus no Craigslist).
| Freelance Website | Alexa Rank | Notes |
| --- | --- | --- |
| Fiverr | 147 | Graphics and design, digital marketing, writing and translation, video and animation, music and audio, programming and tech, business, fun and lifestyle |
| Upwork | 351 | Web developers, mobile developers, designers and creatives, writers, virtual assistants, customer service agents, sales and marketing, accountants and consultants |
| Freelancer | 644 | Data entry, logo design, graphic design, website design, mobile phone apps, translation, software development, HTML, PHP, Internet marketing, WordPress, articles, SEO, CSS, Photoshop, software architecture, Excel, Android |
| 99designs | 3510 | Logo and identity, web and app design, business and advertising, clothing and merchandise, art and illustration, packaging and label, book and magazine |
| PeoplePerHour | 3935 | IT, design, writers, marketing |
| Toptal | 7139 | Development, design, finance |
| Guru | 7983 | Web, software, IT, design, art, multimedia, writing and translation, admin support, management and finance, sales and marketing, engineering and architecture, legal |
| Truelancer | 9913 | developers, design and creatives, sales and marketing, bloggers and writers, SEO, mobile apps |
| DesignCrowd | 13893 | Logo design, web design, t-shirt design, flyer design, brochure design, business card design, other design projects (3D, apps, etc.) |
| TaskRabbit | 20116 | US and UK home tasks, handyman, moving, DIY |
| Airtasker | 22959 | Small jobs, from accounting to writing and all sorts of general tasks, including the whole range of household DIY projects and cleaning (for Australia, Ireland and UK) |
| fivesquid | 34980 | Small gigs - Graphic Design, Programming & Tech, Digital Marketing, Music & Audio, Business & Advertising, Writing & Translation, Video & Animation, Miscellaneous |
| WorknHire | 35779 | India, PHP programmers, Java developers, iPhone developers, game developers, graphic designers, content writers, sales and marketing, data entry, customer service and support, finance and accounting, social media optimization (SMO), Internet marketing (SEO) |
| Handy | 36681 | US, Canada and UK cleaning, furniture assembly, home tasks, handyman, DIY |
| Remote | 41974 | Marketing, content, admin, brand design, sales, translation, social, development |
| XPlace | 75491 | Websites, design and graphics, software and programming, technology, writing and editing, translation, sales and marketing, photography, SAP, admin support, training, management, coaching, architecture and interior design, finance, lawyers and legal services, sound and music, engineering, prototyping and manufacture, TV and theatre |
| Zeerk | 67922 | Online marketing, SEO, writing and translation, graphics and design, video, animation, music, audio, programming, business, lifestyle |
| Freelancermap | 98204 | IT, design, business, engineering |
| Freelance.com | 178820 | Freelancer management, IT, design, marketing, writing, assistants, business, translation, engineering |
| Periodix | 326443 | A freelance jobs search aggregator |
Note: Alexa rankings on date of last update (see below).
If you've made a decent living out of gigonomics, why not send Tek Eye an article about your experiences and pass on some tips for those entering the freelancing and gigging lifestyle.
See Also
Get some 17 tips on boosting your visibility on freelancing websites. Its written with Fiverr in mind but many tips apply to other freelancing sites - Make Money on Fiverr
For a full list of all the articles in Tek Eye see the full site alphabetical Index.
Author:Daniel S. Fowler Published: Updated: