Computer Help for Anywhere in the World
From Anywhere in the World
The Internet is one of humanity's greatest inventions. As with many inventions, it is not perfect, but it is extremely empowering for humankind. The technology underpinning the Internet is based on computers and programming, and so is this website. Tek Eye is brought to you by software and systems designer Dr Daniel S. Fowler. I work at the University of Warwick. I get computers doing what they need to do, and in my research, I look for ways to make using technology, computers and software simpler. It is great to see people using software and computers to successfully improve their businesses and make their life easier. I've often been called upon to do software development, but usually perform multiple roles in Information Technology (IT) projects, just as those who run a business often need to perform many roles.
Everyone and every business should use the opportunities provided by the Internet to reduce IT costs and make their life easier, reducing the burden of performing multiple roles. You could pay the high costs of a large consultancy for IT help, however, cost-effective home-based freelance programmers and technicians are available around the globe. Whatever type of computer help is required for your IT problem a solution is available after all, technology should make you smile, not pull your hair out. You need IT to drive business, not give problems.
The Tek Eye website is also providing a helping hand. If, like the guy below, you use the computer to do work, provide services, or run your business, then sometimes you'll look for an answer on the Internet. Hopefully, some of those answers will come from my Tek Eye articles.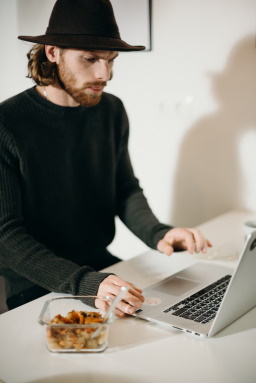 List of Freelance Computer Support Services
How efficient is it to try and sort your own IT problems. Your time spent sorting IT problems is less time spent getting your business to grow. In essence, IT is a double business cost, costing you time, and costing you money. Reducing those computing costs makes good business sense. In any IT set-up, there isn't a computer or software system than cannot be made more efficient. This list covers some of the computer services that are provided by freelance IT specialists and creatives.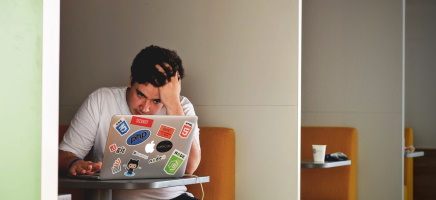 Bespoke software development.
Graphics and video production.
Cloud computing systems and migration.
Virtual Private Servers set-up and management.
Email and social media account management.
Hardware and software setup and configuration.
WiFi, mobile device and Internet connectivity.
Systems and processes optimised and refreshed.
Digital forensics and technology law support.
Programming support and bug fixing.
Business analysis and systems architecture and design.
Backups, disaster recovery and business process design.
Managing software teams (distributed or office-based).
IT project management.
Software product management.
Your Global Computer Support Specialists
The digital devices all around us, and the ones we use come from a vast software and hardware industry. The IT world has given us new opportunities, companies, products, entertainment and helped simplify daily life. But computers are machines and machines sometimes breakdown. To solve your software or IT issues in finance, business, industry or home get in contact with a good freelancer. Build a relationship and you'll have access to expertise to solve those IT problems that crop up when running a business.
See Also
For a full list of the articles on Tek Eye see the full site Index
Author:Daniel S. Fowler Published: Updated: