Free Launcher Icons, Menu Icons and Android Graphics
These Android graphics resources have appeared in our articles and Android sample programs. The following Android graphics resources are free to use, that includes royalty free and free for commercial use, they have been released to the public domain.
Royalty Free and Public Domain Launcher Icons
Royalty Free and Public Domain Android Menu Icons
Soon.
Other Free and Public Domain Graphical Resources For Android
The following royalty free resources are from the Open Clip Art Library.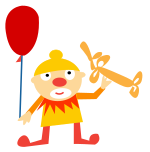 By momoko. See the article Pop-up Window in Android
See Also
For a full list of all the articles in Tek Eye see the full site Index.
Author:Daniel S. Fowler Published: Updated: